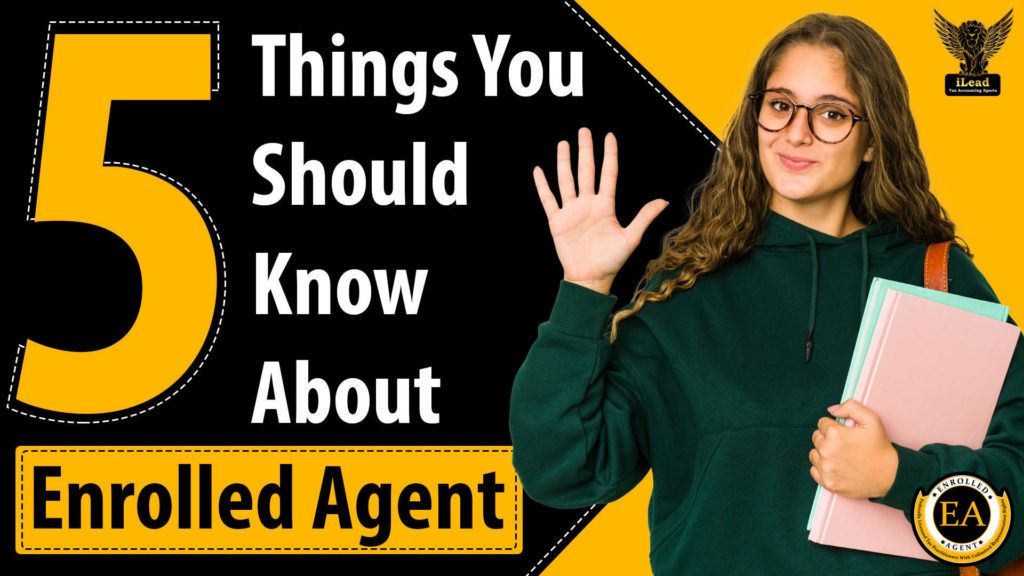 Here are 5 Things You Should Know about Enrolled Agent
1: Who is an Enrolled Agent (EA)?
• An Enrolled Agent (EA) is the America's Highest Licensed Tax Expert from the Internal Revenue Service
• They are Authorized Tax Professionals like CPA / Attorneys with Unlimited Tax Representation Rights
• Every Big 10 / Good US MNCs needs CPAs / EAs to Serve or Represent their Tax Clients in USA
• EAs are in Huge Demand in India, in USA and other Countries too
• If you are a CA, you can try EA to Start Your Own USA Tax Practice
• Enrolled Agent course takes lesser time to Pass than CPA / Attorney Exams
2: How to Become an Enrolled Agent (EA)?
• Enroll for the EA Training
• Receive the Class Links
• Learn Through Lectures
• Make Class Notes
• Solve MCQs at least Twice
• Study the Material
• Call / WhatsApp / Zoom / Skype for any Doubts / Help
• Participate in Weekly •LIVE Sessions on Facebook & YouTube
• Apply for PTIN (Preparer Tax Identification Number)
• Schedule the EA Exam with Your Nearest Prometric Centre
• Pass ALL 3 Papers of the Special Enrollment Examination(SEE) with the IRS
• Obtain Your Dream Job / Start Your Own Tax Practice
3: How Tough is this EA Exam?
• Any one who is 18+ Years with a Valid Passport can be an Enrolled Agent (EA)
• You can be from Any Education Background to Pursue EA
• iLead had students from Science, Technology, Engineering backgrounds also complete EA
• EA has Only 3 Papers to PASS – Individual Tax, Business Tax & Tax Representation
• ALL are Multiple Choice Questions (MCQs) with 71% Pass Rate
4: Why Pursue EA from iLead Tax Academy?
• We are the only ONE across the planet earth offering 150+ Hours of Training in USA Taxation + 30+ Hours of Revision Classes + 2500+ MCQs + EA Study Guide with Hand-Written Notes dictated LIVE during Training Sessions. iLead is the ONLY Academy to Offer You Both THEORY & PRACTICAL Training on USA Taxation
• One can PASS EA and also LEARN How to Prepare Personal & Business Tax Returns. You can Enroll for Real Time Practical Training / Internship Program to get Real Time Preparation Experience. iLead has BOTH Academy which produces Enrolled Agents and an LLC which serves Tax & Accounting Clients in USA
• Get Trained on USA Taxation by Mr. Nanda Kumar K V, EA CPB who is recommended by Indian IT Companies to their Employees. You Get Real Time USA & Indian Tax Scenarios Explained during Your Training
• You Can Pay Per Paper if You Cannot Pay for ALL 3 Papers at Once. You Can Pay in Installments / Avail 0% Interest FREE Student Loan for EA. Get 100% Job Placement Assistance from iLead Tax Academy. Most of Our Students got Jobs in Leading USA Tax Companies even before they Completed their EA
5: How Much Does an EA Earn?
• This is the only course in US Tax Industry that can get even a Fresher Earn > INR 4,91,318 per annum + Variable Compensation / Performance Bonus. Please check https://www.payscale.com/research/IN/Job=Enrolled_Agent/Salary
• FRESHERS itself are paid at least INR 40,000 to INR 50,000 per month (in India) and USD 45,000+ per annum in USA. When your communication is good and you have practical tax preparation experience, you can expect to earn even more!
• When you already have experience in USA Taxation, getting an EA Credential helps you get a Managerial RoleIt also helps you to Start Your Own Tax Practice too in the future
• If you are working for a good company, they can even send you to USA on Temporary / Permanent Assignments. Refer EA if you have someone in USA, they can also do EA and they can Earn 20% on the Business they bring to iLead Tax LLC
Ready to Get Started to Become an Enrolled Agent – America's Highest Licensed Tax Expert in 2021?
Contact Us Today 📲 By WhatsApp / Text / Call: +91-99495 79091 (INDIA) or +1-234-444-5323 (USA)
Go Through Our Facebook Page, Linkedin Page & YouTube Channel for more information
Email📧 : EA@iLeadTax.com or Visit 🌐 www.ileadtaxacademy.in or www.iLeadTax.com
Talk to Our EA Enrollment Advisor Today! Transform Yourself into a Licensed Tax Expert / Tax Practitioner